My sweet friend, Jessica Turner, has something going on this month that is awesome!
You can read all about it HERE.
A great contest and some awesome prizes!
Today's product spotlight is Elle's Studio & Diecuts With a View! I have always LOVED Elle's products and she's really created some cute baby tags!
So if you have a new lil one... we'd love it if you went over to Jess's blog and played along and entered to win some fun prizes to document your lil one's growth!
Here is the cute button you can post on your blog so you win some prizes!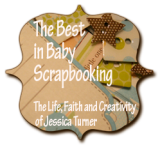 I will post a cute lil maternity photo Josh took of me about 3 weeks ago. The tummy is definitely bigger now, but I just love this photo! So fun!
We have a pretty busy week ahead of us. Some Christmas events... addressing our Christmas cards that we designed, I have some design work I am working on, in addition to scrapbooking w/the next SIS collection that will be hopefully releasing this week! You can see some peeks of it in the Fashionista Portfolio. Just look for the red starburst. That means it's a collection. We have 1 session booked for Saturday afternoon w/some great friends of ours who now live in TX. They are expecting a lil girl a month before us so it's goign to be great fun! Im really itching to photograph lately! Time just has not permited it.
Well pretty sure that's all I have for today.
Oh... you probably noticed the new blog banner! I had so much fun creating this! Made me so ready for Christmas.
xo